Environmental Compliance
Responsibility is one of our core values, and one way we demonstrate this is through our commitment to 100% compliance with the local, regional and national environmental laws and regulations under which we operate.
Our Commitment
Our ability to maintain compliance plays a major role in our license to operate, by demonstrating to our stakeholders that we are respectful of the law and fully capable of conducting our business in accordance with the permits that have been established to preserve the natural environment we all share.
Our Performance
As part of our ongoing effort to eliminate environmental non-conformances (ENCs), we realized a 14% reduction in the number of these occurrences in 2018 compared with 2017 and a 27% reduction compared with 2016. This improved performance is partly attributed to investments in environmental infrastructure, training, awareness and improved tracking of environmental obligations.
In 2018, only one ENC resulted in a penalty. We incurred a fine of $3,200 for a failure to properly report quarterly opacity readings at one of our facilities in the United States. In response, we have implemented a more robust system to monitor permit requirements.
---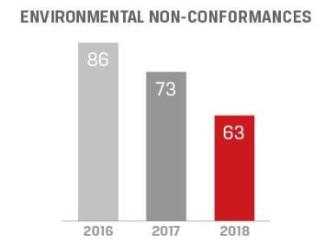 In 2018, we continued to reduce our rate of ENCs. We saw a 10% reduction compared to the previous year and a 23% reduction compared to 2016.
---