Emissions
We understand the broad impacts associated with greenhouse gas (GHG) emissions and air pollutants, including implications for climate, concerns regarding the impact on public health and threats to ecosystems.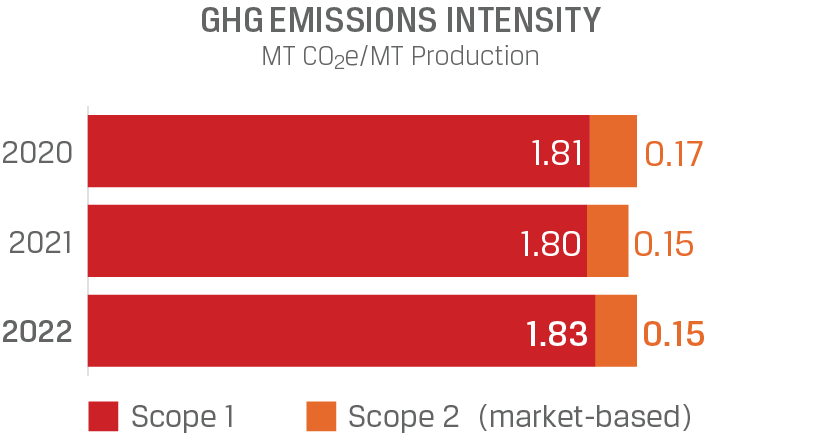 Emission reductions, however, can also signal improving overall operational efficiency at our manufacturing facilities, and we see our focus on emission reductions as a potential competitive advantage. We monitor our process emissions closely and work to minimize our respective impacts in support of maintaining compliance with our regulatory obligations and reducing our global environmental footprint. We also look to partner with our customers and others who share our goal of reducing emissions impacts across the value chain by providing products that can help lower their own emissions and significantly lower the impact of their products throughout the product life cycle.

In 2022, we made positive progress toward our emission reduction goals. We continued to reduce our SO2 intensity and through the end of 2022, we have achieved 56% of our goal. Additionally, we have successfully achieved our 2025 NOX intensity goal. Our Franklin, LA, USA, air pollution control system and energy center contributed to these achievements by resulting in emissions reductions of 140 tons of NOX and 813 tons of SO2 when compared to 2021.
As a result of portfolio changes in 2022 which included the sale of the Purification Solutions business, a producer of activated carbon with an intense carbon footprint, we believe it is appropriate to now update our original 2005 greenhouse gas (GHG) emissions intensity baseline. We intend to reset the baseline year for our 2025 sustainability goals to 2022 going forward and establish a goal to further reduce our market-based GHG intensity by 5% below 2022 levels by 2025.

By the end of 2022, when compared to the revised 2005 baseline, we increased production of primary products by 4%, decreased absolute GHG emissions by 342,370 MT and decreased GHG intensity by 11%. Additionally, we enabled our energy customers to avoid approximately 497,000 MT of GHG emissions through our energy recovery investments and partnerships. This reflects the achievement of 55% of our goal to reduce GHG intensity and enabled a nearly 5-fold increase to the emissions avoided from our energy exports annually.