Emissions
We understand the broad impacts associated with greenhouse gas (GHG) emissions and air pollutants, including implications for climate, concerns regarding the impact on public health and threats to ecosystems.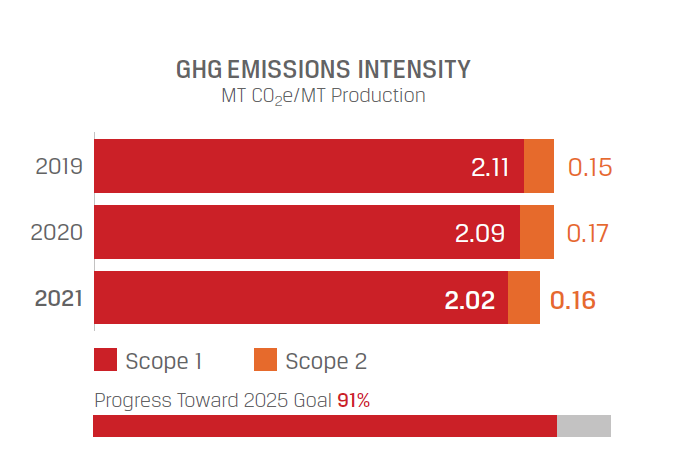 Emission reductions, however, can also signal improving overall operational efficiency at our manufacturing facilities, and we see our focus on emission reductions as a potential competitive advantage. We monitor our process emissions closely and work to minimize our respective impacts in support of maintaining compliance with our regulatory obligations and reducing our global environmental footprint. We also look to partner with our customers and others who share our goal of reducing emissions impacts across the value chain by providing products that can help lower their own emissions and significantly lower the impact of their products throughout the product life cycle.

In 2021, our absolute emissions of GHGs, SO2 and NOx increased over the previous year but stayed just below 2019 (pre-pandemic) levels. We made positive progress toward our emissions goals, achieving 91% toward our 2025 GHG intensity goal, 42% toward our SO2 intensity goal, and 91% toward our NOx intensity goal.
We completed the implementation of emissions control technology at our carbon black manufacturing facility in Franklin, LA, USA to improve its air pollution control system. It is anticipated that with a full year run-rate, there will be a combined NOx and SO2 emissions reduction of more than 20 tons per day.
---
Our Performance

---
Product Life Cycle

Cradle-to-Gate
We initiated a cradle-to-gate life cycle analysis of our carbon black products that will allow us to focus our attention on key opportunities along our value chain to reduce our overall greenhouse gas footprint. Once this analysis is complete, we expect to be able to provide Scope 1, 2 and 3 GHG emission estimates and other environmental aspects for various carbon black product grades in 2021.
---