Retention, Development & Diversity
In addition to our commitment to keeping employees safe, we are dedicated to providing employees what they need to succeed in their careers. We recognize the value each employee brings to our business and how the diversity in background and skill sets benefits the company.
With approximately 4,700 employees around the world who represent a wide variety of backgrounds and make our business possible, we are committed to celebrating the diversity of all our employees and supporting them in realizing successful careers.
Reporting to the CEO, the senior vice president and chief human resources officer (CHRO) oversees programs and processes to attract, develop, retain and support our employees and routinely updates the Board of Directors on related initiatives. The Human Resources department enables managers across the company to drive performance and employee development through the use of our performance management process and the implementation of our Code of Business Ethics and our Human Rights Policy, which establish expectations for professional conduct, strict adherence to labor practices and human rights laws, and the creation of a safe and healthy workplace.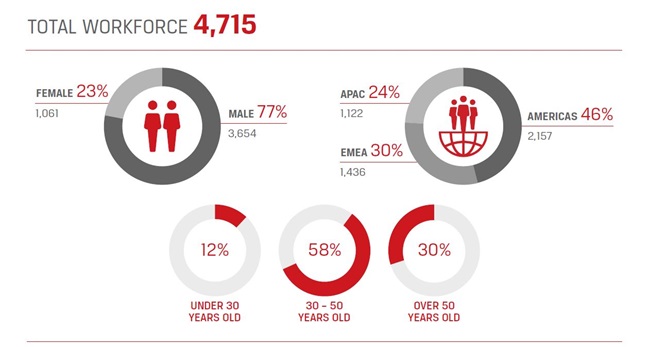 OUR COMMITMENT
We understand that employees have a choice of where they work, and it is our goal to remain an attractive employer for top talent. We depend on the broad range of skill sets and experiences from our workforce to be successful as a business and advance on our sustainability journey. At the same time, we seek diverse candidates for all positions while providing competitive benefits and professional development programs to all employees to ensure they are treated fairly and equally. By developing our employees' knowledge and skills, we offer our people opportunities for advancement, enhance value for our customers, and retain talent to further our leadership position. This also benefits our employees' families and local communities by building intellectual capital and supporting broader economic stability.
We have a firm belief that fostering diverse perspectives and experiences not only builds a community of employees who feel included and valued but also enhances our ability to be innovative. Our business success depends on our ability to create an environment in which we all understand and acknowledge the importance of our differences. This supports our efforts in recruiting and retaining top talent and establishing a welcoming environment for our employees.
Our Performance
Our top priority for diversity and inclusion in 2018 was to define what this topic means to us as a company and how we will build an inclusive environment in which employees can be their genuine selves. The D&I Council set a charter as well as objectives, which included benchmarking D&I activity with other companies, defining more clearly and precisely what the terms "diversity" and "inclusion" mean to us, and sharing this information on our website. As part of this effort, we hosted an executive leadership session to define D&I and prioritize our focus areas. In addition, we began a process of determining what systems and key performance indicators should be introduced to help us ensure success in making our company a place where employees with diverse backgrounds and experiences feel welcome and supported.
---
Employee Development Highlights
We take steps to ensure all employees are committed to living our values of integrity, respect, responsibility and excellence as well as our commitment to human rights. All employees are required to attend training to understand the importance of our values in addition to completing our Code of Conduct training.
Download our Human Rights Policy
---