Community Engagement
Throughout our history, we have maintained a strong sense of community and have strived to be a good corporate citizen.
Our Commitment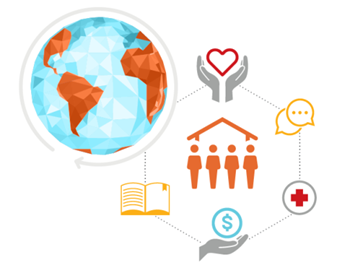 We understand the value of partnering with the communities in which we operate, and we recognize that thriving and resilient communities are essential for a sustainable future. Community engagement benefits our neighbors, resonates with employees on a personal level and allows us to operate with the trust and confidence of our neighbors. We are fortunate to have a workforce comprised of many individuals who are willing and able to contribute to this important effort by offering their time and skills to have a positive impact on our communities.
Our Performance
In 2018, we donated more than $1.4 million to worthy causes around the world. This included Foundation disbursements of $853,000 and individual facility donations totaling $596,000. These fiscal contributions were over and above the numerous ways our employees found to give back to their communities through volunteerism and personal giving.
Aligning Giving with our Sustainability Strategy
One key area we focused on for community engagement during 2018 was the alignment of the Foundation's giving with our overall sustainability objectives. We undertook this effort with the recognition that the Foundation plays a unique role in providing financial support to our communities around the globe while fostering long-term partnerships with organizations that can support our shared sustainability goals. To this end, the Foundation's Board of Directors conducted a thorough review of the themes supported by its charitable grants to ensure they complement the material topics underpinning our sustainability strategy. Looking forward, we intend to draw inspiration from our overarching sustainability objectives to help direct our community engagement activities at our facilities in addition to the Foundation's giving decisions.
---
Giving Back to the Community

Inspiring Young People to Tackle Climate Change
The Cabot Foundation has proudly served as the first corporate sponsor for the New England Aquarium's ClimaTeens program, recognized with a 2016 Community Service Award from Youth Climate Action Network, and a 2015 Community Leadership Award from Greenovate Boston, which has been engaging teenagers on the topics of climate change and ocean conservation since 2013.
This year-long teen empowerment and education program attracts approximately 40 teenage students each year with a desire to learn more about these important topics. As part of the program, students design projects to inspire public audiences, particularly their peers, to take action in contributing to a more sustainable future. In 2017, a group of Boston and Billerica employees from different disciplines attended the students' final presentations of their projects to show their support and offer advice on career choices in STEM fields to a highly motivated group of students eager to make a positive impact.
---
---