Yale University Sculpture Building in New Haven, Connecticut, USA
We teamed with a partner on the development of 60,000 square foot, four-story glass structure enclosed by a transparent building envelope.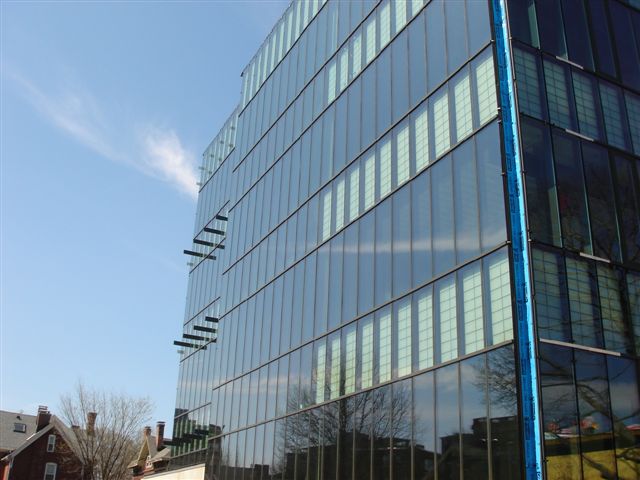 High-performance curtainwall that combines glass and Kalwall® + LUMIRA® aerogel surrounds the 14-foot high studios of the Yale University Sculpture Building and Gallery on the upper levels, and the shops and teaching space on the first floor. To maintain a predominantly glazed envelope, without compromising the building's high level of energy performance, the architect installed a triple-glazed curtainwall of insulated glass and R-20 LUMIRA aerogel-insulated translucent panels.
This high-performance curtainwall provides significant reductions in both heat gain and loss year round. The warm air trapped in the curtainwall cavity is retained by the LUMIRA aerogel insulation and is either used internally in the winter months or vented to the exterior during the warm months. This creates an effective thermal management barrier that increases energy performance while simultaneously allowing the entire façade to admit natural light into the interior, thereby reducing artificial lighting costs. The building's transparent, lightweight façade system transmits soft, glowing light through 8-foot operable windows, triple-glazed low-E vision panels, and a translucent double-cavity spandrel panel using LUMIRA aerogel.
Other eco-friendly highlights of the project include:
Materials. low-VOC materials, geopiles, post-consumer recycled newspapers
Water reclamation. underground cisterns collect rainwater for an annual 65% reduction in total water use
Waste management. 89% of construction waste was recycled, with recycling available on all floors of the completed building
Community. locally manufactured materials chosen whenever possible, 78% from within 500 miles
Awards and certifications:
Environmental Design + Construction Excellence in Design award (educational building category)
2008 COTE Top Ten Green Projects
LEED Platinum Certification from the US Green Building Council (USGBC)
Architect: Kieran Timberlake Associates, LLP
Partner: Kalwall