Monkseaton Community High School in Tyneside, England
A spectacular example of the part which good quality daylighting plays in 21st century education.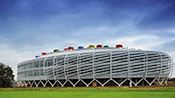 The innovative design of Monkseaton Community High School in the north of England at Tyneside was designed by the architectural practice that subsequently changed its name to Devereux Architects. The brief was to create a light, modern, state-of-the-art facility for about 1,000 pupils. Flooding the school with daylighting and thereby creating a light and airy feeling throughout was designed to encourage "open" learning and be a dramatic move away from traditional, "institutional" school design.
Consequently, a massive central space was formed at the heart of the school to create independent learning areas, teaching spaces, and social and breakout areas, together with a gym and sport facilities. Laboratories, classrooms and teaching areas are designed to be in constant use with minimal circulation areas between. An essential element of the design concept is extensive use of rooflights. There are seven 6-meter wide continuous Xtralite LUMIRA® aerogel rooflights — some nearly 50 meters long — which follow the curved roof profile and cover more than 35% of the roof area.
Complex computer modeling, carried out by Parsons Brinckerhoff, was used to maximize daylight penetration, as well as to assess heating, ventilation, acoustics and fire engineering systems. Actual daylighting in the finished building has been shown to be in line with the design model. Despite its innovative approach, construction costs were significantly lower than for five other schools recently completed in the area.
Project Director Ian Lancastle-Smith says, "Environmental and sustainability issues were particularly important to us and the building is BREEAM rated 'very good.' The energy savings from natural lighting contribute to this, in conjunction with the exceptional insulation given by the LUMIRA® aerogel rooflights, well in excess of Building Regulation requirements. We are particularly pleased with the amount and quality of light provided, and the cool color typical of north lighting is ideal in schools."
Dr. Paul Kelly, head teacher at Monkseaton, says, "This is light, airy and one of the best school environments I have ever worked in. The pupils are also healthier, happier and learn better."
Owner: Monkseaton Community High School
Architect: Devereux Architects
Partner: Xtralite Rooflights