Bouaye Sports Hall in Nantes, France
This sports hall is located in the Bouaye wine region near Nantes in France. The new building replaces the original Bellestre sports hall which was destroyed by fire in 2006.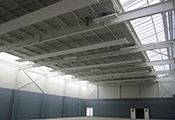 It was also an opportunity to replace the previous structure with a larger hall that would satisfy the demands of a town that had doubled in size between 1983 and 2006. The new facility was commissioned by Bouaye local authorities and designed by Murail Architectes, architects with offices in Paris and Nantes. It opened in the spring of 2011.
In building this new hall, the architects had to provide large quantities of natural daylight, while at the same time providing superior thermal insulation. With the lighting, the architects had to eliminate shadows and glare for the players. With the insulation, they had to reduce heat losses through the the glazing in order to preserve energy. Given these requirements, the use of high-performance insulation at Bouaye was crucial.
By working with the natural lighting systems manufacturer and installer Ecodis, part of the Essmann Group and our French aerogel partner, the solution was to install very large insulated skylights. These comprise six large saddle skylights fabricated in 20 millimeters thick polycarbonate units, 3.4 meters wide and up to 44 meters long, together with four smaller polycarbonate units 1.9 meters wide x 6.5 meters long. These high-performance products diffuse natural daylight across the interior playing surface, creating perfect playing conditions by eliminating shadows and glare and eliminating the need for curtains or blinds.
The reason for the perfect lighting and high thermal insulation is because the saddle skylights have AeroTech (also known as LUMIRA® aerogel) within the thickness of the panels. This not only diffuses the daylight evenly but provides very low thermal conductivity - representing a 32% savings in energy use compared to standard panels without aerogel. It is also four times lighter than standard double glazing.
Catherine Finot of Ecodis says, "We are increasingly being asked for ECODIS AeroTech® where Cabot's aerogel is injected into the cells of our multi-wall polycarbonate panel. Many architects in France, and throughout Europe, recognize that this is one of the most efficient insulation materials in the world. All are also influenced by the ever more stringent thermal insulation standards in Europe."
Client: Bouaye local authority, France
Architects: Murail Architectes
Partner: Ecodis