Valasske Mezirici, Czech Republic
Our team in the Czech Republic is committed to continuous improvement. All of our employees are responsible for ensuring our customers receive the highest quality products and customer service.
CS CABOT, spol. s r.o. is a joint venture between DEZA a.s. (DEZA) and Cabot Corporation. Our primary goal is to maximize customer satisfaction while fulfilling the needs of our business partner. CS CABOT, spol. s r.o. executive officers include Nicholas Cross, Mgr. Jaromir Odstrcil, Mgr. Marcela Janisova, Ing. Zbynek Prusa and Ing. Martin Marek.
Our place of business is located in Valasske Mezirici, Masarykova 753, PSC 757 27. Our registered VAT number is 14612411 and our tax payer ID is CZ14612411. We are registered with the company register in Ostrava, Section C, entry number 523. Our certificate of registration, commercial registrar and independent auditor's report are available upon request.
Learn more about our facility
---
Our History
We began producing carbon black in the Ostrava channel in 1938. In 1968 our operations moved to Valasske Mezirici. We formed a joint venture with DEZA in 1991 and then launched two new production lines in 1994. Today, we produce and sell carbon black for tires and industrial rubber products. Our sales and manufacturing teams are based in key locations throughout Europe to serve customers of all sizes and requirements.
A major milestone 
In May 2014, we celebrated 20 years of carbon black production in Valmez under the Cabot brand.
Anniversary Celebration
Ceremony
A variety of guests attended the celebration, including Cabot executives, community leaders, colleagues from nearby chemical plants, and DEZA, our joint venture partner.
Friendly Competition
Following the formal program, our team hosted our Ravenna, Italy colleagues in some soccer and volleyball matches.
Open House
Additionally, we hosted an open house for the community, and close to 500 visitors toured our facility.
Family Day
Our employees and their families joined the citizens of Valmez at the town garden for entertainment, with all profits donated to a local charity.
Our Team
As Cabot employees, we value integrity, respect, excellence and responsibility, and we are committed to living these values every day.
---
---
CS Cabot Foundation: Committed to Education
The CS Cabot Foundation was established in 1997 to support students. During its existence roughly 600 students received scholarships amounting to nearly CZK 7 million. Please submit any inquiries or written applications to Lenka Jirickova.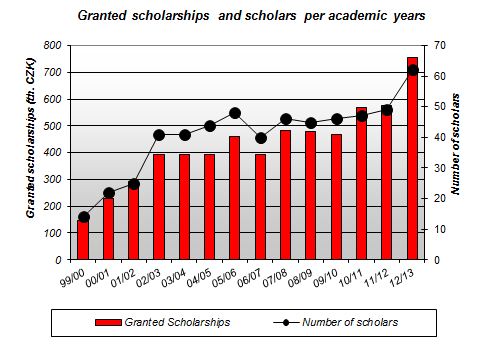 The foundation annually grants scholarships to undergraduates who achieve strong academic results but lack sufficient financial resources. The amount of the scholarship is dependent on the social situation of the applicant and his or her study results. Typically it does not exceed half of the student's assumed study expenses.
Students from the region of Valasske Mezirici are preferred for the scholarship. In most cases, the selected students are supported only after successfully completing their first year of university. In the case of extraordinary circumstances, the foundation will also consider grants for students of secondary school or students in their first year of university. The applicants can apply for the scholarship for the following academic year annually until the end of July.
Name: Foundation of studies CS CABOT
Seat: Masarykova 753, 757 01 Valasske Mezirici
ICO: 66934591
DIC: CZ66934591
Purpose: The support for the students from the families with the lower incomes during university study
Organization: CS CABOT, Ltd.
Bank connection: account number 201562878/0600 kept by GE Money Bank in the city of Valasske Mezirici
Registration: 18.12.1997 OU in the city of Vsetin, 13.01.1999 in the foundation register Ostrava
Statutory authority: Six-member board of directors
Chairman of the board: Ing. Ladislav Stefan
Control authority: Supervisory council
Contact the CS Cabot Foundation:
Lenka Jirickova
Telephone: 571 681 424
Mobile: 724 002 481
Fax: 571 681 421
Fax: 571 681 421
---
Foundation Resources
---
Our Charitable Contributions
We always put an emphasis on supporting local voluntary and non-profit organizations in the form of donations and sponsorships. All of the company's donation activities are directed towards Valasske Mezirici and the former Vsetin region. For our activities in this area, we have been recognized and offered constituent membership in the club of company donators of the Czech Republic. We have received this honor as the only company registered in Moravia. Please contact us if you have questions about our charitable initiatives or would like to submit an application.
The goal of the CS Cabot Sponsoring Board is to decide about support of nonprofit charitable activities and non-government organizations within the region. The Board meets once a month to review and make decisions on all delivered applications for grants and advertising offers. Our Board is comprised of Jaromir Odstrcil, Tomas Pekara, Marcela Janisova and Ludmila Palatova.
The local Board may also support or donate to larger charitable projects, such as hospice construction at Valasske Mezirici, construction of the house on a half way realized by association Pod Kridly at Valasske Mezirici, and reconstruction of Charity Asylum House at Valasske Mezirici.
Additionally, the Cabot Corporation Foundation, Inc. supports sustainability through activities in the areas of science education, safety, health and environmental development, and community based initiatives.
---
Safety, Health & Environment (SH&E)
We are committed to excellence in SH&E for the protection of our employees, contractors, visitors and neighbors in the communities where we operate. We manage our site and operations processes according to CSN EN ISO 9001:2009, and our SH&E requirements according to CSN EN ISO 14001:2005 and CSN OHSAS 18001:2008. In total, these standards comprise our Integrated Company Management System. Our management considers the implementation and continued compliance of all aforementioned management policies a top priority.
Learn more about our commitment to responsibility:
---
Certifications
---
Contact Us
We invite you to contact us with any questions or concerns.