OTR/Earthmover
E2C™ solutions offer off-the-road (OTR) and earthmover tire manufacturers with options for balanced performance, increased durability and improved energy efficiency.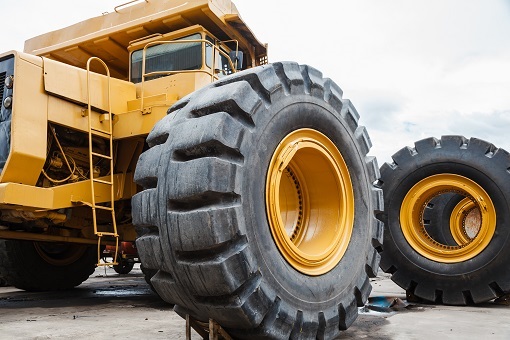 E2C™ solutions have been shown to break critical trade-offs in tire design by both lowering operating temperatures and extending the life of OTR and earthmover tires by more than 15 percent, enabling an average mine to increase haulage capacity and potentially boost output by $100-150M/year for large operators, based on third party analysis and/or testing.

Because tires made with E2C™ solutions last longer and are more energy efficient, raw material consumption and C02 emissions are reduced and fewer end-of-life tires are generated, helping tire manufacturers to achieve sustainability goals.

Durability Series: Products designed to reduce in-field failures and maximize operational uptime
E2C™ DX9730 offers breakthrough improvements in cut, chip, and chunk resistance, reduces the risk of catastrophic tire failures and unplanned vehicle service and increases fleet utilization.
E2C™ DX9640 offers breakthrough performance gains in abrasion resistance, and is formulated to provide 20% longer tread life and/or lower heat buildup without sacrificing cut/chip/chunk performance.
Foundation Series: Products designed to deliver multidimensional performance for a variety of tire types
E2C™ FX9390 is formulated to deliver significant performance improvement balanced across cut/chip/chunk resistance, heat buildup and abrasion resistance in OTR mining tires. When combined with other E2C solutions, FX9390 provides mining customers with flexibility for tire compound formulation within a wide design space.
OTR/Earthmover tires must perform in a wide range of severe operating environments including hard, abusive surfaces, extreme temperatures and rough roads. High vehicle utilization is critical for mine operators to maximize uptime and haulage, and hence the productivity of the mining vehicles.
---
Ready to learn more?
Request our comprehensive eApplication guide to learn if E2C™ Solutions are right for you.
---