Halley VI Station in Antarctica
Aerogel helped create one of the most extraordinary building projects on our planet.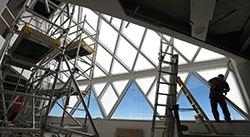 The extreme climatic conditions prevalent in the polar light zone on the Antarctic Brunt ice shelf place very high demands on man and material. The challenge for this project was to create comfortable working and living conditions for people at the base, where temperatures which can drop as low as -72.4°F (-58°C) and winds can be in excess of 100 mile per hour (160 kilometers per hour). Over the years, the original Halley base has had to be rebuilt several times after being crushed by snow.
In cooperation with the Engineering Office of Faber Maunsell, Hugh Broughton architects in the UK developed a very flexible concept for Halley VI. This comprises individual modular bodies connected through short corridors and elevated above the snow level on hydraulic legs. The legs are mounted on oversized skies to enable quick reaction to breaks or changes in the ice so that the modules can be disconnected and pulled to a new location one by one. This adaptability significantly increases the expected lifetime of the new station.
Most of the social areas are concentrated in the central double height red module, which features a large east-facing window. In order to maximize performance without compromising insulation, the Okagel glass cladding system has been filled internally with LUMIRA® aerogel. For example, the double glazing with 60 millimeters of aerogel in the cavity has an U-value of under 0.3 Wm²K.
This glazing system enhances the transmittance of diffused natural daylight without glare, shadows or hotspots during the six months when the sun never sets. In addition to being highly insulating, the system also provides excellent sound insulation during the winter months when there is no daylight but often continuous buffeting from high winds. By using high-performance insulated windows for such a hostile environment, the architects have considerably improved comfort levels for the station's occupants who live and work in these confined spaces all through the year studying meteorology, glaciology, seismology, radioastronomy and geospace sciences.
Client: British Antarctic Survey (BAS)
Architects: Hugh Broughton Architects and Faber Maunsell
Partner: Okalux