Broad Art Museum in East Lansing, Michigan, USA
The new museum at Michigan State University, known as the Eli & Edythe Broad Art Museum, is a dramatic sculpture of angled stainless steel and glass.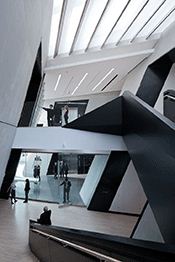 This series of pleats has produced an extraordinary building that changes as visitors move past and through it — creating great curiosity, yet never fully revealing its content. It offers more than 46,000 square feet for the display of artwork and includes innovative daylighting insulation technology. Michigan State University is one of the largest universities in North America. The museum, which was built to house the University's extensive art collection and to complement the many existing buildings for research and teaching, was made possible through a donation by U.S. billionaire Eli Broad. The design competition was launched in 2007 and won by world famous architect and Pritzker prize-winner Zaha Hadid. It opened in November 2012.
Visitors enter a three-story foyer flooded with pleasantly soft daylight from a skylight above the feature stair, which connects all levels of the museum. Here, the architects paid special attention to the design of the skylight, not only on its appearance and how it diffused light, but also on the high insulating performance of the glazing.
The Okagel glass cladding and rooflighting system, manufactured by Okalux in Germany, has been filled with silica aerogel. Sometimes called "frozen smoke," LUMIRA® aerogel is the lightest and best insulating solid in the world. Used within translucent glazing systems like this, LUMIRA aerogel offers a remarkable R-value of up to the equivalent of a solid wall. In addition to saving energy, the material has high external heat and noise insulating properties. This museum project is yet another recognition by architects of how LUMIRA aerogel helps provide optimum daylighting and energy efficiency, plus a high degree of user comfort, particularly in important and critical spaces such as here in the entrance foyer.
The architects say, "Detailed investigations and research into the landscape, topography and circulation of the site, enabled us to ascertain and understand the critical lines of connection. By using these lines to inform the design, the museum is truly embedded within its unique context of Michigan State University, maintaining the strongest relationship with its surroundings."
Client: Michigan State University
Architects: Zaha Hadid Architects
Partner: OKALUX