People Safety
Safety is, and always will be, our number one priority. We encourage all employees and contractors to maintain a diligent focus.
We prioritize effective project planning, adherence to all operating procedures, recognition of potential hazards, proper use of personal protective equipment (PPE) and personal accountability. We use a number of leading indicators at all of our sites, including a focus on near-miss identification and reporting so we can prevent more serious injuries from happening in the future. While our total recordable incident rate (TRIR) is significantly below the chemical industry average in the United States, we continue to focus on cultural and leadership assessments as well as priority site reviews. We use the definition of recordable incident established by the United States Occupational Safety & Health Administration (OSHA).
---
Outstanding Safety Performance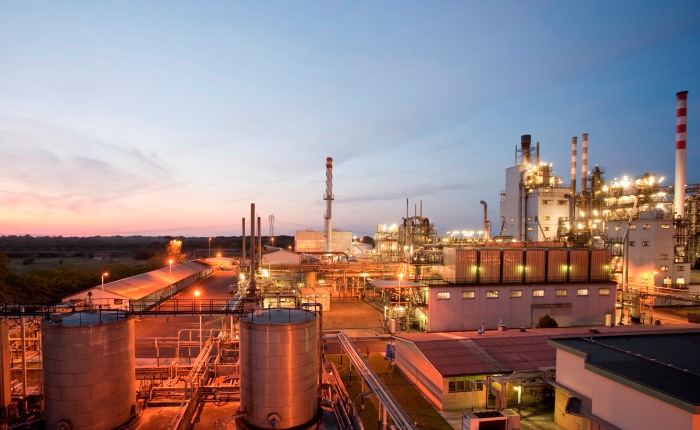 Collaboration
One of our greatest strengths is our global network of collaborators. Our carbon black and activated carbon teams in Ravenna, Italy worked diligently to improve their safety program over the last three years.
Implementation of the Cabot Life Critical Safety Standards was a key focus area and in particular the safe work permit (SWP) system. The joint team developed a plan to help resolve communication challenges by implementing a site-specific SWP system. The SWP procedure helps ensure all affected workers review the job steps in advance and collaborate on the most effective risk reduction measures to ensure it is done safely before beginning work. This process allows the team to better track work progress, maintain effective communication and ensure safer operations.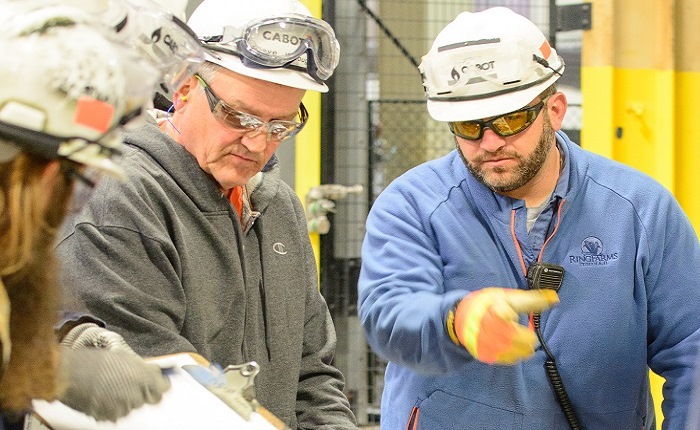 Safety Excellence Leads to Performance Improvement
Our team in Valmez, Czech Republic is proof that companies with excellent safety standards also tend to produce the highest quality products.
In 2011, Valmez lagged behind many of our carbon black sites on adhering to the company's safety standards. A shared sense of urgency about the need to change the site's safety culture was a direct result of a fatal incident that occurred at the plant in December 2011. The Valmez team took action immediately, spending the month after the incident in an intensive period of analysis. They developed a clear action plan that focused on safety, teamwork and the involvement of every employee.

As a result of this focus, planning and execution, the Valmez site transformed itself into one of our best performing sites. During the entire 2014 calendar year, the Valmez team maintained the strongest ratings within our rubber blacks manufacturing network for safety, environment, process safety, complaint rates, equipment efficiency and other key indicators. Significantly, the Valmez team has simultaneously seen a positive shift in all operational areas, specifically related to product quality and manufacturing performance.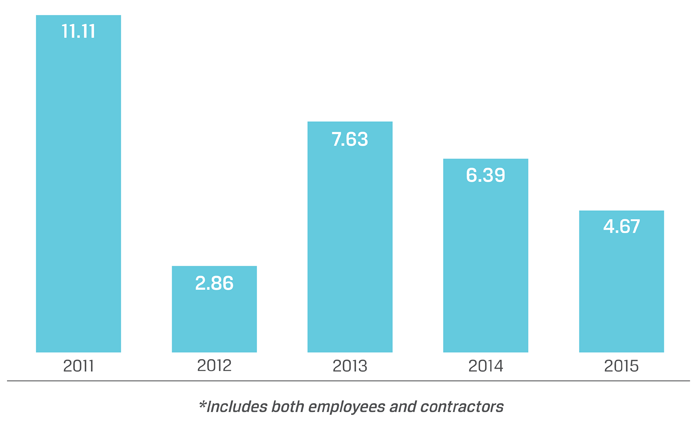 Enlarge
Severity Rate
Severity rate is a measure of the number of injuries with more than 10-days lost time, a fracture or amputation. In 2015, the severity of incidents continued to decrease and our overall performance remains among the best in the chemical industry.
---
Honoring Excellence
President's Club
Manufacturing facilities that set an example with excellent SH&E performance are recognized with admission to the President's Club. These sites have operated with no recordable safety incidents in 3 years or 2 million person hours receive this prestigious honor. We continue to set a high standard for safety at all of our operations worldwide, and congratulate our colleagues for achieving this milestone.

Chairman's Award
Our highest recognition of excellence is the Chairman's Award, which is presented to manufacturing sites that operate for more than 4 years without a recordable safety incident, environmental non-conformance or significant process safety event while earning positive SH&E audit results. Recipients include: Dubai, United Arab Emirates; Jiangxi, China; Loncin, Belgium; Port Dickson, Malaysia; Ravenna, Italy (purification solutions); and Valmez, Czech Republic.
---