Our Commitment
We believe we are successful only when our technical capabilities are interwoven with an intense commitment to sustainable business practices that ensure the well-being of our employees, contractors, customers and the communities in which we operate.
Throughout our 135 year history, our employees have embraced this challenge and demonstrate their continued efforts every day. Our manufacturing teams from around the world appreciate the responsibility of what it means to work safely, respect the communities in which we operate, and work hard at protecting the environment. We are entering a period where sustainability is not a "nice-to-have," but an essential criterion of success for our customers and our business. The sustainability imperative spans all industries and touches our entire set of markets and customers.
Our leadership in performance materials is enabling breakthroughs across a broad range of global markets. While our innovation efforts are having a substantial impact for our customers, we constantly strive to deliver these innovations on an ever more efficient footprint. Increasingly, customers and stakeholders challenge us to think holistically about our footprint and find ways to balance the trade-offs between the clear benefits of our new materials and the long-term lifecycle costs of our production processes. As such, we remain committed to improving our energy efficiency and reducing our greenhouse gas intensity.
Furthermore, we are implementing technologies to meet the increasingly stringent environmental regulations globally and enhance the quality and transparency of information to allow our customers to safely use our products. Our vision drives us to do more than what is legally required in the areas of process safety management and occupational safety, and we are proud of our long track record of industry-leading performance in these areas. Each of our employees worldwide is committed to the cultural beliefs that every incident is avoidable and continuous improvement is a way of life.
Increasingly, customers, employees and communities want a company like Cabot to operate with a sense of responsibility and to act based on a clear set of principles. Our response to this expectation is exemplified through our participation in the United Nations Global Compact (UNGC). As a signatory of the UNGC, we remain committed to the UNGC's Ten Principles and continuing to make progress in the areas of human rights, labor, environment and anti-corruption.
"
As a responsible corporate citizen, we strive to continuously improve our performance in the areas of environmental, social and economic commitments through the delivery of superior products, flawless operations and active engagement with our stakeholders.
Sean Keohane, president and chief executive officer
Learn more
---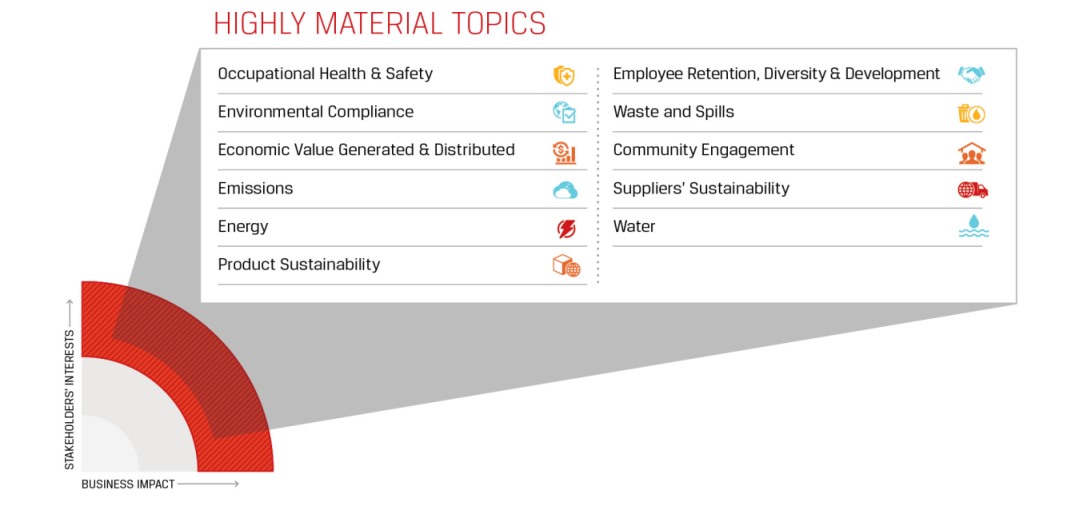 Enlarge
Highly Material Topics
We recently conducted an extensive materiality assessment that enabled the reevaluation of those areas of sustainability that are most important to our business and stakeholders' interests. This effort, which included outreach to customers, investors and our employees around the globe, helped us confirm our priorities and sharpen our focus. It also pushed us to look beyond our operational footprint into the value chain, where we believe there are many opportunities to partner with our customers and suppliers in order to make a difference.
---
Resources
---