Environmental Performance
Our Drive to Zero initiative starts with a belief that zero is possible – zero injuries, zero spills and zero violations. This belief and commitment is an integral aspect of our operating culture and serves as a central theme in our safety, health and environmental (SH&E) policy.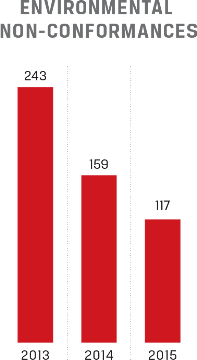 Part of our environmental management approach includes carefully monitoring environmental non-conformances (ENCs), which we consider any event resulting in a reportable spill or release, a notice of violation, a public complaint or permit deviations. As these occurrences arise, we carefully examine the root cause, and share lessons learned with our other facilities. Our ultimate goal is to achieve zero ENCs across all of our operations. In 2015, we continued to make progress toward this goal with a decrease in ENCs by 26% since 2014.
As a result of our ongoing efforts to reduce ENCs at our Marshall, Texas, USA facility, we saw a 40% decrease in incidents in 2015 as compared to 2014. Additionally, at our Glasgow, Scotland, United Kingdom facility, we introduced a new wastewater neutralization system to maintain our wastewater discharge within the pH limits of our permit.
---
Local Environmental Initiatives
Dust mitigation in Klazienaveen
We recently completed a project at our Klazienaveen, the Netherlands activated carbon facility to reduce the airborne spread of raw material dust.
The solution came in the form of a protective mesh screen that encloses the raw material storage area. This project has been successful in reducing our impact to the surrounding environment.
Marshall ENC Reduction Efforts
Our activated carbon manufacturing plant in Marshall, Texas, USA recently initiated a multi-year effort to reduce its ENCs.
Beginning in early 2014, the team evaluated the events that were causing ENCs and focused on implementing high-impact projects to reduce ENCs. The events at the outset covered two key media: ENCs associated with air and water/storm water permit conditions. The team grouped the events by cause and implemented projects to address the root cause of the events, addressing equipment design, plant drainage systems and control logic. As a result, ENCs have been reduced at the site, and the team is working on the next phase of the effort.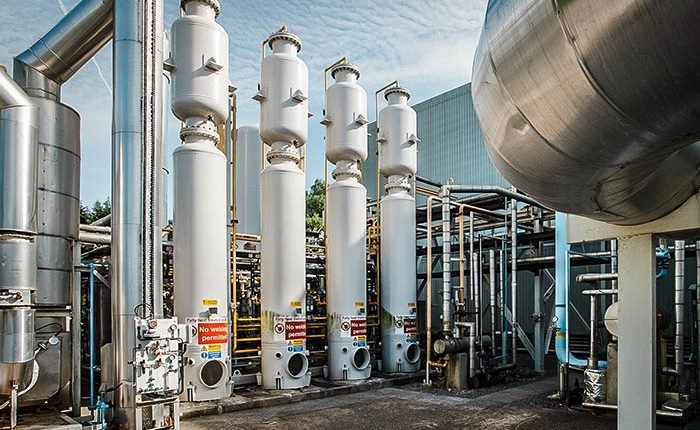 Burner Expansion
We recognized an opportunity to expand production capacity at our facility in Sully, Wales, United Kingdom while incorporating sustainability principles into process improvements.
The site installed a boiler to recover waste heat and generate steam for beneficial reuse and capture. Excess hydrogen is generated by the process and reused as a primary fuel.
---